The Deepening
24 Sept – 2 Oct, 2016
A growing number of people around the world are awakening spiritually. If you have reached this webpage, you are probably one of them. You probably see the incredible potential that is present—in the people you know and in the inspired, creative projects of enlightened people around the world. And you see the futility of the self-centered approach to life that has become so embedded in the cultures of our post-modern world. Most importantly, you are awake to the creative potential of your own life and of your own creative gifts.
You may also be aware that if this great potential is to be fully realized, something more has to happen. There has to be a full appreciation of the choices that are present for humanity, and for you in your own life. There has to be an experience of fully embodying what is true for you in the living of your life. And a way to share what is true for you in the compassion, love and understanding between you and other people.
The Deepening is about this process. It is an inspiring and dynamic eight-day course that assists people to learn the secrets to the full embodiment of their spirituality. Participants gain a deeper understanding of the essential principles that guide the creative process. They penetrate the layers of fear and shame that limit the free expression of spirit. And they fully embrace their own unique journey in life.
This course is an opportunity to go to new heights in your spiritual experience by going deep. By letting the spirit within penetrate new depths of your own soul and flow through you in creative expression to your world. Through the journey you take with experienced teachers and a loving group of people on a similar path, you come to a place of deeper awareness and greater possibility in your life.
The Deepening initiates new steps in transformation, renewal and learning that are at the heart of a person's life-mission and purpose. The tools, resources and gateways of understanding that are shared assist participants to move forward with confidence and to develop as a leader in their world.
You will explore:
The manifestation of your personal destiny
Shared support for your life journey
Living in Attunement
The principles of practical spirituality
The course invites personal discovery and transformation through presentations, interactive practices, ceremony and dialogue. Using the timeless understanding of ancient and contemporary spiritual teachings, what is already inherent in the depths of your being is drawn forth. Group activities, along with one-on-one sessions with faculty, create a powerful and supportive atmosphere.
Fee:
$1,150 (includes tuition, meals and accommodations for 8 nights)
Prerequisite:
Some experience of personal growth or personal development work
Application:
Click here to download the application for the eight-day intensive. Please e-mail completed application to deepeningspiritualexpression@emnet.org.
Upon acceptance you will receive a link to register for lodging at Sunrise Ranch.
For more information, please contact:
Keahi Ewa: keahi@sunriseranch.org
Phone: (970) 679-4349
Address:
100 Sunrise Ranch Rd
Loveland, Colorado 80538 USA
---
Dates
Location:

24 Sept – 2 Oct, 2016


The Deepening begins with dinner at 6 pm Saturday and ends after the Service at 12:30 pm on Sunday.  Please plan to attend the entire event.
Sunrise Ranch, CO
---
Faculty Leaders

Phil Richardson is one of seven Trustees of Emissaries of Divine Light and provides leadership and spiritual education internationally. With his wife, Ruth Buckingham, he coordinates Emissary activities in South Africa and the UK, spending time there and in the USA assisting people to a greater awareness of their true potential. His more than 35 years of commitment to his spiritual path and the training he has undergone in Spiritual Education, Attunement and Emotional Work has equipped him well as a mentor, facilitator and teacher. His down-to-earth practical approach to life enables him to assist people to discover and expand their spirituality within their everyday lives.
---

Ruth Buckingham originally trained in the theater, and has been on a spiritual path for over 30 years, during which time life has brought her many interesting and varied experiences. She has initiated and been part of several intentional spiritual communities, traveled widely through Asia and Africa, lived in the bush with no electricity and no running water for a year, run a health and wholeness practice for over 10 years, and taught and designed many workshops. Her passions include public speaking, teaching and facilitating, and a love of history. Cats are important in her life too! Ruth is a Trustee for Emissaries of Divine Light and, with her husband Phil Richardson, currently coordinates Emissary activities in South Africa and the UK.
---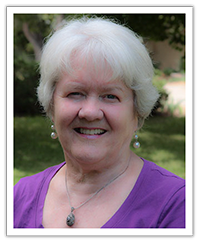 Maureen Waller is a Trustee and minister of Emissaries of Divine Light. She has served as a faculty member for several of the core classes for the Emissary program. Maureen has had a variety of "careers" but one constant calling—to assist people to come home to themselves in a deeper and deeper way, and by doing so become a beacon for their world.
---